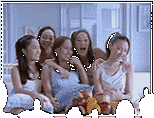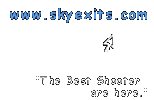 Sky Exits Co.,Ltd. is a film production house making T.V. Commercial Films.We are No. 9 in the world (from shots *56 jan 2000).
Our address is 2136/5-6 Ladphrao Road.,Wangtonglang , Bangkok 10310 Thailand Tel. 662-9336470 ( 10 lines) Fax. 662-5303666 We employ 60 people in our production team.We have producer dept. ,Art dept. , Props. Dept. , Casting dept. , Costume dept. , Camera & Grip dept., Accounting dept. etc.
Sky Exits was established in August 1987 with a capital of 200,000 baht.Now our annual turnover is 5,000,000 baht.


The majority of films on our showreel
are on air both in Thailand and
Overseas.We also work with most of the
large and well-established agencies.
Approch Advertising

Ogilvy & Mather Thailand

BBDO Bangkok Limited

Leo-Burnett Thailand , Vietnam



Access & Associates

SC Matchbox Thailand

A & P Siam Neo Group

Bates Thailand

Business D.

Bozell-Break Through Ltd.


Constant Advertising

Chuo Senko Thailand

Core & Peak Co.,Ltd.

DDB Needham Worldwide
Dai-Ichi Kikaku

D-Day Entertain-
ment

Famed Line Co.,Ltd.

Flagship Co.,Ltd.

Lintas Thailand

Massive Advertising
Meitsu Thailand

Market Force

Odinric-Thai


Paterson & Partners

Prakit & Fcb

Pro Q. Co.,Ltd.
Thai Hakuhodo

Thai Image Advertising

Single Mind

S.C. Johnson & Stone

The Ball Partners




Dentsu Thailand

J. Walter Thomson Thailand

Dentsu , Young & Rubicam Thailand

Theme AD. Corporation
WCJ Thailand

Grey Thailand , Vietnam

Results Advertising Thailand

SPA Advertising Thailand

Wunderman Thailand
Artistree Thailand

Mccann-
Erickson Thailand

Amex Team Advertising Thailand

TBWA Next & Tripet Advertising Thailand
Century Advertising

Amarati Puris Lintas Thailand

Saatchi & Saatchi Thailand , Vietnam , Guangzhou China

Far East Advertising Thailand

Our Company slogan is
"Eat all day , Play all night ,
Shoot until you're satisfied. "
meaning ,whoever comes to Sky Exits , Clients , Staff etc. will have always take care well , however we work hard to please and satisfy our clients and to make the finished product to the highest of world class award standard.